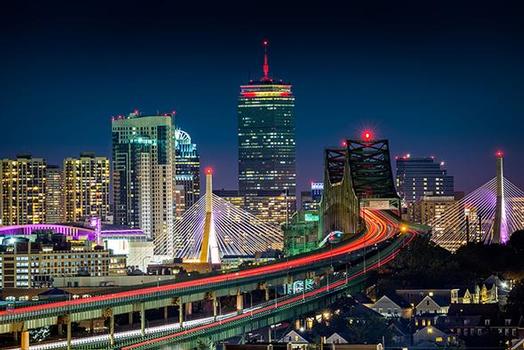 Creating a Complete Picture with Your Puzzle Pieces
Whether you own a business or you've hit your stride in a successful career, you know you need to be disciplined in your finances to make the most of your opportunities and ensure your hard work doesn't go to waste. But the process can be complicated and time-consuming, and most people don't know what they should be doing or how they should be doing it. Identifying the right path can feel like a puzzle that you don't have all the pieces to finish. That's why at McCarthy Financial, we take the time to help you identify all the information you need to make wise financial decisions. Our goal is to create a cohesive strategy that helps you accomplish your priorities today and complements your future objectives—understanding that in the future, your circumstances and priorities will change and as they do, we'll help you pivot and adjust your strategy to ensure you're still on track to reach your goals.
Strategic Alliances
Effective financial strategies can sometimes require a team of experts working together to serve your best interests. In such situations, we are the quarterback who makes sure everyone is working together to achieve the best possible results. If you have existing
team members you trust, such as your CPA or attorney, we are happy to work with them, and
we can also bring in our subject-matter experts as needed.
Click below to read more about our strategic alliances.
Process
One thing our clients appreciate about working with us is that we don't believe in cookie-cutter services or a one-size-fits-all approach. Instead, we follow a meticulous process designed to help get to know each client's situation, goals, and level of risk tolerance so that we can make appropriate recommendations to meet their needs. Everyone is different and we may amend our approach to suit a specific client, but in general, we utilize the following process to help those we're privileged to serve.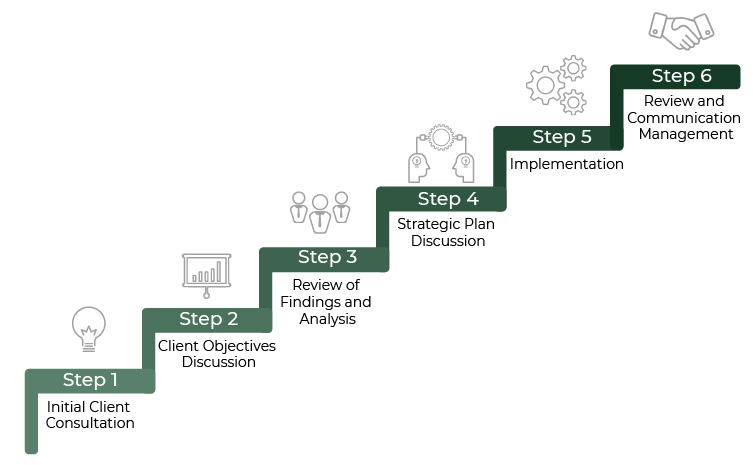 Step 1: Initial Client Consultation
In the first phase of the process, our goal is to make sure we're both the right fit for each other. We'll discuss what you're looking for, the capacity you'd like to work with us in, and the goals you're hoping to accomplish. We will also go over who we are – our philosophies, experience, process, and team.
Step 2: Client Objectives Discussion
Everyone's financial situation is unique. That's why it's so important to find out as much as we can about you and your financial goals. The more we know about you, the more precise recommendations we can make and the more we can help you. As a result, we may take some time to discuss your hopes, dreams, and objectives, and the things that really matter to you. This is the basis for the first meeting with anyone we sit down with.
Step 3: Review of Findings and Analysis
As needed, we will work with you to identify and prioritize your objectives, and then help establish benchmark goals. This is important because we live in a world of unlimited choices. People often fail to achieve objectives because they try to accomplish too much at once, or they don't attach specific deadlines to their goals. By breaking down your goals to specific objectives, you can look at available resources and decide which goals are realistic, and which should be adjusted and scaled down.
Step 4: Strategic Plan Discussion
Based on our conversation and analysis, we can recommend the steps that it will take to help you achieve your financial goals. You'll receive an email with the Executive Summary to review and take in all we discussed.
Step 5: Implementation
We'll implement your strategy and work closely with you and your other third party professionals to ensure its success. We'll monitor progress and provide ongoing service as your needs and situation change over time.
Step 6: Review and Communication Management
This is not a one-shot deal. Strategies need to be adjusted periodically as your life and the economy changes. We will work with you over the years to help keep your strategy on track with your changing needs.
Expertise
McCarthy Financial LLC provides individuals, families, and businesses with innovative, cutting-edge products and services to help them grow, protect, and conserve their wealth through all stages in life. Taking into account your needs, goals, and tolerance for risk, we will work with you to bring clarity to what you want to achieve and how to get there. Some of our key services are listed below.
Client Portal
Service Requests